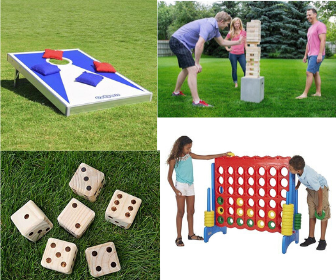 Game Package
Everyone will have lots of fun with these games:
1) Giant Connect 4: Life-size version of the classic game. Stands almost 4 feet tall.
Young players build teamwork and cooperation skills while they learn to match four colored rings in a row to win. This interactive game is great for two players, and also works with teams for epic kids-vs-grown-ups championship matches.
2) Cornhole: (3' x 2') cornhole game set with 2 boards and 8 beanbags.
3) Giant Jenga: This block game stands 2.5 feet tall and depending on your level of experience can reach a height of 5 feet! This game is great to take outdoors. Perfect for group events, parties, camping and more. Tumbling Timbers can be played by 2 or more players. First, build the tower, then take turns to remove a block (using only one hand) and place on the top. The object is to be the last player to successfully stack a wooden block without knocking down the tower!
4) Giant Yard Dice: Measuring 3.5in x 3.5in these six giant dice are sure to be a hit at any school, church, or backyard party! Roll to the left, right, or center with kids, families, and adults of all ages. Comes with instructions for game ideas.

Minimum order of $150 for delivery applies.
Free Delivery to Columbia and Jefferson City.